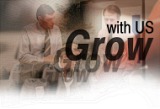 Send Us Your Resume
(principals only please)
E-mail
recruit@datacorinc.com
Fax
(973) 822-3976
Attn: Human Resources
U.S. Mail
Datacor, Inc.
Attn: Human Resources
25 Hanover Road
Building B
Florham Park, NJ 07932
Make A Difference
A career at Datacor, Inc., offers you the opportunity to be on the forefront of technological development and work with smart people on leading edge products. Right now, we're looking for responsible, motivated, and ambitious people to join our growing team – people like you. We are in the business of developing great products that bring people and technology together. We deploy the latest technologies to help companies reach new heights of success. We invite you to explore our great job openings and see where a career with Datacor will take you.
Available Positions
Applications Systems Analyst – You will interface with both customers and the development team to address customer needs. You will provide effective delivery of customer services and prompt resolution of customer issues as well as review, analyze, and modify ERP applications to improve the quality of our products.
Programmer Analyst – You will design, develop, code, and test our ERP applications. This includes many different types of applications such as financial, manufacturing, purchasing, inventory management, customer service, and MRP software components.
Implementation Consultant – You will be responsible for leading implementations of our software applications at client sites to assure effective project delivery. You will provide leadership and guidance and oversee all project activities including installation, implementation, and training.
Benefits
Datacor offers complete medical coverage, life insurance, a 401(k) plan, paid vacations and holidays, flex time, travel opportunities, and a health facility.
Corporate Office
Our corporate headquarters is situated in the suburban Morris County community of Florham Park, NJ, conveniently located only 30 miles from New York City, overlooking an 18-hole public golf course. Restaurants, shops, parks, and other recreational opportunities are both plentiful and accessible. Our corporate neighbors include Honeywell, Prudential Securities, and Novartis.
Contact Us
Please contact our Human Resources Representative (left) for additional information and specifications.