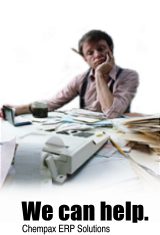 Efficiency, profitability, and success are the outcome of our product innovations. Datacor delivers quality software with unmatched functionality for Process Manufacturers and Chemical Distributors. With nearly 30 years of industry knowledge and field tested by almost 10,000 daily users, our products work the way you do. Utilizing a best of breed approach to deployment, Datacorís products have been refined to provide the right fit for your business and the right answers to your industry-specific challenges.
Built from the ground up for Process Manufacturers and Chemical Distributors, our applications go to work for you to streamline and improve all aspects of your business operation. Beyond software, Datacorís experienced product managers guide you through installation and implementation with remote and on-site education. Our support staff is ready and waiting to answer all your questions. Choosing Datacor guarantees you the leading industry specific solution and outstanding service from an experienced team of knowledgeable professionals.
Our Enterprise Resource Planning (ERP) systems feature advanced interface technology and are conveniently available on multiple, scalable platforms, while our Customer Relationship Management (CRM) is web-based and is compatible with any operating system, as well as other ERP applications. The underlying technology provides stability, flexibility, and power to make Datacorís products the right solutions for you.
| | |
| --- | --- |
| | Chempax is the leading ERP software application developed specifically for Chemical Manufacturers & Distributors. |
| | Sales agents, managers, customers, and suppliers have access to detailed sales and customer service data stored in a CRM application portal that extends enterprise system capabilities. |
| | Product Label and MSDS creation, generation, and distribution. |